About Anita Doré Paws4thoughtbrighton
Licensed Boarder, Council Approved Dogwalker, Qualified Behaviorist
Above all, I love dogs and this passion led me to become a dog walker over 18 years ago - currently I walk 10-12 dogs each day.
I grew up surrounded by dogs and learnt to walk leaning on the back of a basset called Hush, who was one my Nan's, shall we say, challenging dogs.

This ongoing interaction with a variety of dogs led me to become a qualified dog behaviourist. All my own dogs have been rescue dogs and this assisted me in choosing my thesis, which centred around re-homed and rescued dogs. I am also actively involved with various charities, rehabilitating and re-homing dogs.

Over the last few years I have expanded my services to include home-based boarding and a lot more 1-2-1 behaviour training. At the moment I am really excited about the latest addition to the services I provide - a 3 week residential training course for dogs - that is a combination of all the services and skills that I offer.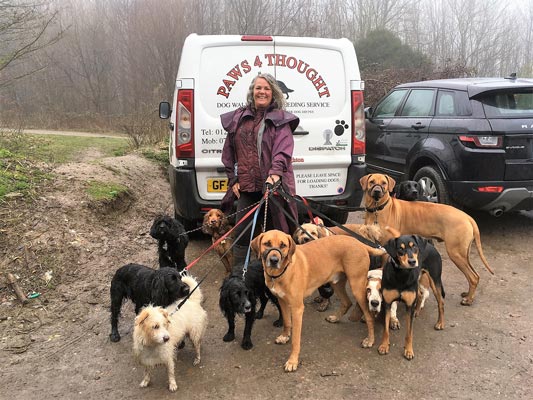 Anita has been walking Rocky for a little over 2 years now - going out every Monday to Friday as well as boarding while we're on holiday. Since doing so, we have seen a great improvement in Rocky's behaviour, temperament and overall attitude. Anita has also been great teaching us a few tricks on how to continue Rocky's training at home. Anita treats Rocky as one of her own and you can see how much she cares for him. Anita has allowed us to go to work in the knowledge that Rocky is happy and healthy. Thanks Anita! Many thanks Ash
Our dog Pumpkin has been regularly cared for by Anita at Paws 4 Thought since she was a young puppy and she is now 11 years old. Pumpkin has probably had at least 50 long stays with Anita as we travel abroad often. She goes on fabulous and varied walks and has a fun time playing and socializing with all the other dogs as well as receiving love and attention from Anita and her team. She always comes home happy and tired from all the great exercise and play. We are sure that a big part of her lovely nature and sociability has been down to the professional and loving care that she has received from Anita and her dogs. Chris, Louise and Pumpkin
Our boys are 5 and half and as we both work they have been walked by Anita every day for most of their lives. She has also had them boarding from one night up to a three week break. She does her best to accommodate any variation in our routine. Anita is really passionate about all animals and particularly the dogs she walks. I know she views our boys as her own and they are always really pleased to be with her and the pack.